Martin County and EcoSense International: MacArthur Lake Nutrient Reduction
March 30, 2021
July 15th, 2020
Martin County and EcoSense International have partnered to reduce excess nutrient concentrations at a local level. EcoSense specializes in nutrient removal. The joint initiative involves lowering nutrient levels in MacArthur Lake to minimize algal blooms. This effort involves 64 independent buoys supporting permeable bags filled with a special formulation of NutriGone™ and anchored to the bottom. NutriGone™ socks will allow for the adsorption of nitrogen and phosphorus compounds leading to an overall reduction in TN and TP. After completion, the media may be repurposed as a soil amendment.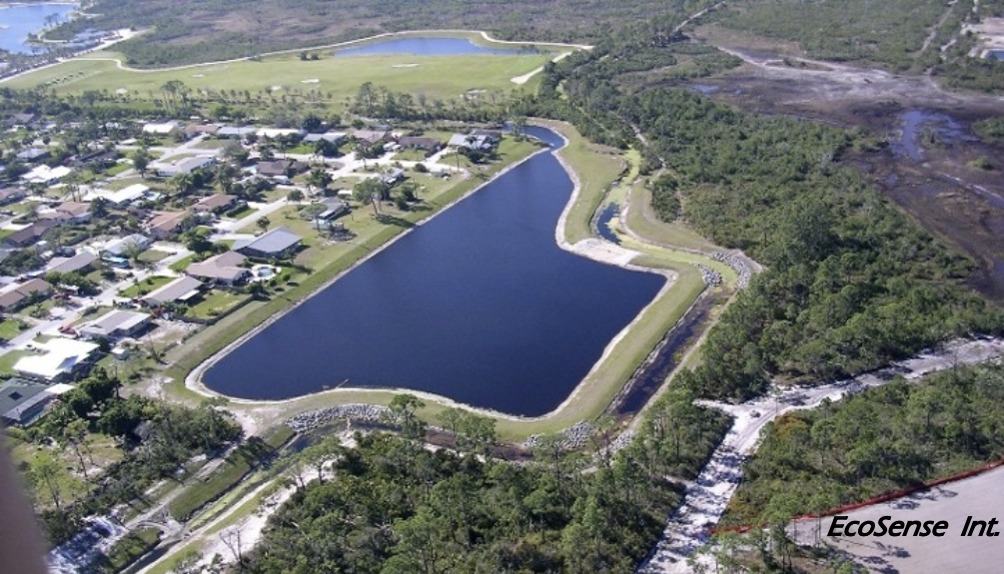 Lake MacArthur is a constructed stormwater pond in east-central Martin County adjacent to the Poinciana Gardens neighborhood.
To have a strong water quality impact, we recommended placing 64 media "trees" within the 3.75-acre lake. Each "tree" has a float, anchor and three 8" diameter x 24" long media bags. This will give us a little under 5-cubic yards of absorption and biologically active media. In addition to lowering nutrient levels and minimizing algae blooms, this action is expected to reduce the organic content of the lake sediments as seen in previous projects.
In addition to the water quality testing, EcoSense will sample the used media during the project to quantify the amount of nutrient captured. Our plan is to utilize IFAS lab to get a determination of the value of the nutrient laden media as a soil enhancement. There is a market for these materials with nurseries, landscapers and other growers. Reselling the "loaded" media will offset the costs of installation through our authorized buy-back program.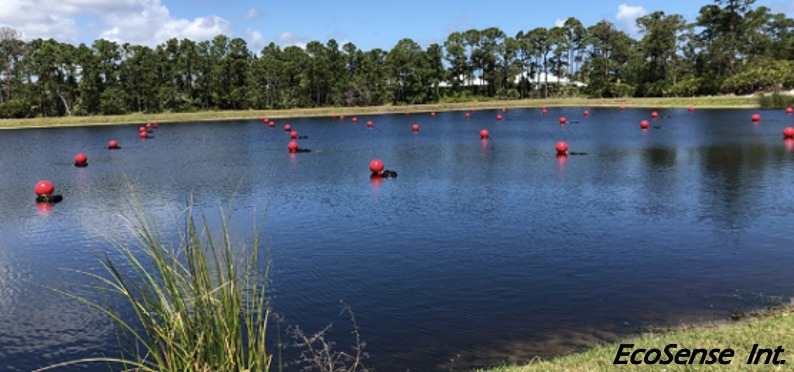 Media "tree" buoys placed in Lake MacArthur, Martin County, Florida.
Area History:
The Poinciana Gardens Stormwater Retrofit was designed to improve stormwater quality in the Poinciana Gardens neighborhood. This public/private partnership addressed long-standing problems in the area, providing added retention and wetland enhancement. The project included the construction of five lakes, a stormwater treatment area, dry detention area and installation of a stormwater conveyance line. Improvements have greatly enhanced the neighborhood's stormwater treatment, capacity and conveyance. This project was completed in 2003.